The Sandman Will Keep You Awake - The Loop
Play Sound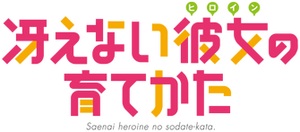 Saenai Heroine no Sodatekata (冴えない彼女の育てかた, Saenai Heroine no Sodatekata) is a multi-stream series by Fumiaki Maruto.
Synopsis
Male otaku Tomoya Aki, who works part-time to earn money to buy anime, meets a beautiful girl one day during spring vacation. A month later, he finds out that the girl is his classmate, Megumi, who is hardly noticed by the other classmates. Tomoya, who also has no special skills or abilities, goes to Eriri Spencer Sawamura, a well-known member of the Art Club, to provide the art for a game the club is developing, and to Utaha Kasumigoaka to write the game scenario. The three subsequently form Blessing Software, which they plan to sell at the next Comiket.
Characters
Tomoya is the main protagonist. He is a student in class 2B of Toyogasaki Academy (豊ヶ崎学園 Toyogasaki Gakuen). He is anotaku and prefers to engage in reading comics and light novels, watching anime and playing galge. He is an enthusiastic fan of Utaha's novel Koisuru Metronome. He is the representative member of Blessing Software. He serves as the producer, director and programmer for this circle. He is also the manager of Michiru's band "Icy Tail".
Megumi is Tomoya's classmate. Unlike Eriri and Utaha, she is portrayed as an ordinary girl with no distinctive character. She is a good-looking girl but doesn't stand out in class at all. She knows little about otaku culture but never keeps Tomoya at arm's length. Her attitude toward Tomoya is often described as furatto (フラット?). She is the model for Meguri, one of the main heroines of the game being produced by Blessing Software.
Utaha is an up-and-coming young novelist. She is a student in class 3C and wearing two hats as a student and a writer. She writes her novels under the pen name of Utako Kasumi (霞 詩子 Kasumi Utako). Her first novel Koisuru Metronome (恋するメトロノーム Koisuru Metoronōmu, lit. The Metronome in Love) was published under the Fushikawa Fantastic Bunko imprint and sold over 500,000 copies. She has both intelligence and beauty, and is the brightest student in the school. Most of the students hold her in awe. She appears to be quiet, but actually she has a sharp tongue. She used to call Tomoya Tomoya-kun (倫也君) but now she calls him Rinri-kun (倫理君). She began to call him by the nickname Rinri-kun when he flatly rejected her suggestion that he read the last volume of Koisuru Metronome before it is published. She is in charge of writing the scenario for the game by Blessing Software.
Eriri is Tomoya's childhood friend. She is a student in class 2G and the most promising painter on the art club. She was born to a British father and a Japanese mother, and has blond hair. She has small breasts and Utaha sometimes teases Eriri about it. She is an otaku and the representative member of the dōjin circle "Egoistic-Lily" (stylized as "egoistic-lily"). Eriri uses the pseudonym Eri Kashiwagi (柏木 エリ Kashiwagi Eri) when she participates in dōjin activities. She hides her otaku side and pretends to be a refined young lady at school. Almost all the students in the school don't know her otaku personality and she is very popular with them. She is the illustrator for Blessing Software.
Michiru is Tomoya's cousin. She is a student in class 3, in the second year of Tsubaki Girls' Senior High School (椿姫女子高校 Tsubaki Joshi Kōkō). She is a very versatile girl except for her poor performance in school. She is good at almost everything and doesn't stick to anything for long, but she has been absorbed in singing her favorite songs and playing the guitar in the band "Icy Tail" for the past year. Michiru had a prejudice against otaku culture and wasn't happy about Tomoya being an otaku until Tokino, Echika and Ranko told her they were all otaku. Michiru composes the music in the game by Blessing Software.
Izumi is a student in class 3A of Honoda Junior High School (穂野田中学校 Honoda Chūgakkō) and two years younger than Tomoya. She is an otaku and the member of the dōjin circle "Fancy Wave" (ファンシーウェーブ Fanshī Wēbu). It was through Tomoya's influence that she became interested in otaku culture. She is deeply grateful to Tomoya for this. She has loved Little Love Rhapsody (リトルラブ・ラプソディ Ritoru Rabu Rapusodī), an otome video game series released by Sonar for the PlayStation Portable, since Tomoya bought her Little Love Rhapsody 2 and a PlayStation Portable console on her birthday. There is rivalry between Eriri and Izumi, then Izumi decided to compete with Eriri in the next Winter Comiket. Izumi made up her mind to be the illustrator for her brother Iori's dōjin circle "Rouge en rouge".
Media
Light Novel
The original source for the entire Saekano series. The first volume was published on July 20, 2012 and marks Maruto's debut as a novelist.
Main article: Saenai Heroine no Sodatekata (Light Novel)
Manga
There are three separated manga series of Saekano which includes:
Anime
An anime television series was announced in March 2014 to premiere on Fuji TV's Noitamina block in January 2015. The anime starts airing on January 9, 2015 and finished airing on March 27, 2015 with a total of 13 episodes. Its second season titled Saenai Heroine no Sodatekata Flat starts airing from April 13, 2017 to June 23, 2017. The second season has 12 episodes, with a special episode which streamed on April 5, 2017.
Anime Movie
An anime film was announced at an event on December 3, 2017, titled Saenai Heroine no Sodatekata Fine (冴えない彼女の育てかた Fine, Saenai Hiroin no Sodatekata Fīne). The movie is produced by CloverWorks and directed by Akihisa Shibata, with Kanta Kamei serving as chief director. The rest of the main staff and cast from the anime series returned to reprise their roles. It premiered in Japan on October 26, 2019.
Video Game
On April 30 2015 5pb. Released A PS Vita visual novel based on the anime, titled Saenai Heroine no Sodatekata: 〜blessing flowers〜.
In the game, the players take on the role of the main character Tomoya Aki to "raise" a heroine of their choosing for a doujin game. Throughout the game, the player must make important decisions that would change the storyline.